Company policy
Okano Electric has been developing our business for more than half a century with the motto of "match the customer's needs". We continue to fulfill our social responsibilities by cultivating excellent independent technology, looking to the bright future, respecting the individuality of our employees, and challenging new possibilities. In addition, our basic philosophy is to contribute to society by providing outstanding products considered safety, quality, and environment aiming customer's satisfaction.
---
Okano Technology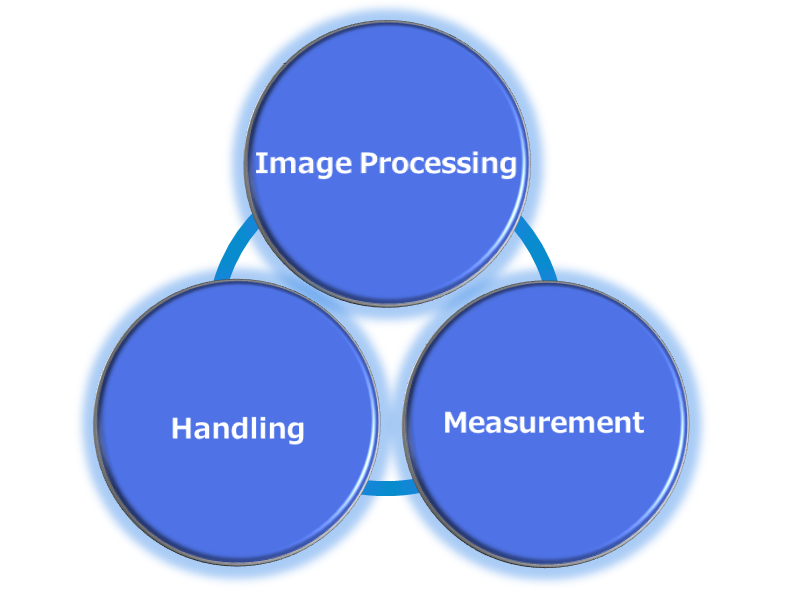 FA customized solutions
Most of the products made by Okano are the customized systems to match the customer's requirement and production facility. Since we developed the world's first analog in-circuit tester which is now the standard for print circuit board test, we have consistently performed development, design, manufacturing and installation work, and we have cultivated experience and know-how to meet customer's needs.

We have delivered our systems with our three main technologies, which is Okano original "Image processing technology", "Handling technology" based on our know-hou over 50 years of experience, and "Measurement technology". Okano has abundant experiences, achievements, and know-how focusing on the customer's requirement. For instance, we have provided the handling systems with 1μm placement accuracy according to our customer's needs. In other case, we have created our original visual inspection algorithm born from various inspection requirements from our customers. Therefore, it is possible for us to make our proposal that meet customer needs. We continue to provide customized systems by making full use of our outstanding technical capabilities and abundant experience.
Our factory automation systems created by the reliable technology is available in a wide range of industrial fields such as the electronic / electrical industry, communication industry such as mobile phones, hard disk industry, medical industry, tool industry, transportation industry such as automobiles, and food industry. Also, we are able to provide the solution for enhancement of the customer's facilities with our systems.

---
Corporate history
2018

Okano Electric 50th anniversary

2015

Hiroaki Okano became CEO/President in our company.

2008

Increased our sales for the customers mainly in semiconductor, electronic components, and automotive selling the visual inspection machines, assembling machines and handling systems

2007

Succeed to expand our business at the field of Factory Automation

2006

Started to sell"OVT-2240" which is inspection machine with the side camera to check the chip mounting on the printed circuit board

2005

Started to sell "OVT series equipped 3 million pixel color camera which was the industry's first application.

2003

Started to tie up with Shindenshi Co.,Ltd to enhance and upgrade "OVT series"

2002

Started to Development, design, and produce our handligy sysmtem "OVH series". "ZPC-5000" development / production was started.

1998

Started to Develop and produce the in-circuit tester "ZPC-2000/3000"

1997

Development, design and production start of the four-sided chip inspection machine "OVS series".
"ZPC-1500" development / production start.

1996

Increased our designers and engineers to respond the increased inquiries of the assembling machines, visual inspection machines, characteristics test machines and handling machines.
We developed the "ZPC-1000" series / production start.

1995

Established four domestic offices and 8 overseas bases. In addition, the circuit tester "FA-931" that employs a personal computer was started to develop and produce.

1994

Development, design and production start of FA machine corresponding user nees.

1993

Development and production start of the flying prober tester with the Linear Surface Motor(Patented)/ PBC Bare board tester / SMT chip mounter.

1988

Development, design and production start of OCM series "OCM-8400IIQF" equipped with the function of the odd-shaped parts and IC mounting, which was adopted the advanced image processing technology with high-precision and high speed.

1987

Development / production start of the ultimate in-circuit tester "OIT-510Z" of the Z series.

1986

Development of the the ceramic substrate insulation and resistance testing machine "BT-861".

1985

New office inauguration. After that, new plant inauguration in 1988.

1984

Because OCM series of strong, development / production start the peripheral device (loader / unloader / intermediate conveyor / reversing machine)

1982

Significantly sales increased of "OIT-510N" and started to develop the peripheral units equipped with OIT-510N.

1980

Exported an in-circuit tester in Southeast Asia and European countries and expanded overseas business. Development and production start of the chip mounter "OCM-8000" in order to change the board sufface mounting method.

1978

Board pattern tester "BT-1000" development / production start. We developed the "OIT-510".

1977

Developed the world's first board circuit inspection machine Analog in-circuit tester "OIT-500" and started production. Started to sell the pin board for in-circuit tester (inspection jig) at the same time.

1974

Started production of the jig for board operation check "Unit checker" and the contact probe.

1972

Newly established the three plants along with mounting board business expansion and our employees were increased.

1969

Okano Electric Co., Ltd. established. Primarily started the assembly of the built-in substrate for the consumer electrical products (acoustic equipment / computer / color TV, etc.).