DECVICE OVERVEW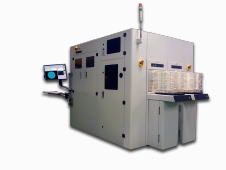 The machine sets wafers supplied from the load port on the YX$B&H(B stage and detects critical defects by using a high-speed, high-resolution color area camera.
A new model with a ling camera will be added in the spring of 2016.
---
---
FEATURES
$B!V(BOVH-5120$B!W!!!!(B
$B!!(B
Five major features

$B!!!!!!(B
Surprising detectability

Never puts conforming articles in defective products

Exceptional reproducibality

Stably detects defective products thanks to special lighting and software.

Exellent onsite response

Employs software to absorb differences among lots.

Easy to use

Equipped with Okano$B!G(Bs unique, epoch-making learning software.

Surviving the intensifying competition

Low-cost, high-performance machine.

$B!V(BOVH-5120R$B!W(B

It is the linecameraspecificationofOVS-5120.




April 2016is the developmentwill be completed

.
---